1st Cavalry Division Book of Honor
"Project Sky Trooper"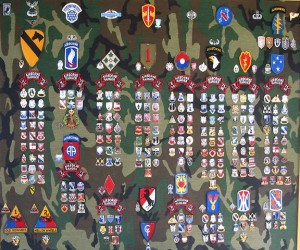 The names of 5,621 Soldiers are on these lists. They were members of units assigned or attached to the 1st Cavalry Division (AIRMOBILE) who were killed in action (KIA) or died during the Vietnam War. The unit baseline used for the research was a list of assigned and attached units of the 1st Cavalry Division that was compiled by Mr. William "Harry" Boudreau, Historian, 1st Cavalry Division Association. Additionally, extensive research on the history of the 1st Cavalry Division during the Vietnam War was necessary in order to understand the complexity of the 1st Cavalry Division's pivotal role during the war. The 1st Cavalry Division (AIRMOBILE) was the only major unit to execute operations in all four Corps Tactical Zones (CTZs), Cambodia, and Laos.
Numerous sources were used to compile the list of Soldiers KIA. Some sources were used to provide background about specific battles and campaigns while others were used to support data about specific KIAs. Through articles in the 1st Cavalry Division SABER newsletter, input was also solicited from individual members, unit contacts, and unit historians of the 1st Cavalry Division Association. The reader must be aware that every source of KIA data analyzed was found to have a certain degree of inaccuracies in it. There are many reasons why these errors occurred and it would not serve any useful purpose to elaborate on them now, 30+ years after the war. Every effort was made to make this list as accurate as possible using the resources available. Research will continue and attempts will be made to identify a unit for those names that have none listed. Corrections have been made by utilizing the Coffelt Database which is considered the most well researched and documented site to identify the casualties of the Vietnam War.
Several First Team Veterans contributed data and input to this project and they deserve our collective thanks. In World War II and the Korean War, the 1st Cavalry Division was faced with the task of covering too many square kilometers and fighting too many enemy Soldiers with too few friendly forces. Both assigned and attached units were essential for the 1st Cavalry Division to achieve victory. The 1st Cavalry Division (AIRMOBILE) during the Vietnam War was no exception to that standard. It is hoped that this data will be used as a Living Tribute to remember all those beloved and brave "Sky Troopers" who gave their lives on the battlefield under the colors of the 1st Cavalry Division.
Project Sky Trooper was compiled and organized by MSG (Ret) Daniel P. Gillotti.
To view the lists click on the unit Tabs.
These brave Skytroopers will never be forgotten!

Ghosts of Fallujah
Ghosts of Fallujah (written by Coley D. Tyler) is a first person account of the Second Battalion, Seventh Cavalry's participation in the Second Battle of Fallujah, the largest single engagement of the Iraq War and the largest urban battle since Hue in 1968. A First Marine Division operation, it was spearheaded by one of the […]

Public Request for Division Assets (Band/Horse Cav Detachment/Honor Guard)
Need to request a Division asset: the Band, Horse CAV Detachment, or Honor Guard? Fill out the provided DD Form 2536 and email it to: SFC Kristin M. Chandler at usarmy.hood.1-cd.mbx.1cd-division-comrel@mail.mil.  If you have any questions about filling out the form call SFC Chandler at 254-288-2601. DD2536 Asset Request Form