1st Cavalry Division Medal of Honor Recipients
Forty-three Troopers
Forty-three Troopers of the 1st Cavalry Division have been awarded the Medal of Honor for gallantry in three different wars. Twenty-nine of the medals were awarded posthumously. Eight of the 1st Cavalry Division's recipients of the Medal of Honor are still living.
The Medal of Honor is the highest medal awarded by the United States. The following excerpt from Army Regulation 600-8-22 (Military Awards) describes the eligibility criteria for the award of the Medal of Honor.
The Medal of Honor [Army], section 3741 title 10, United States Code (10 USC 3741), was established by Joint Resolution of Congress, 12 July 1862 (amended by acts 9 July 1918 and 25 July 1963).
The Medal of Honor is awarded by the President, in the name of Congress, to a person who, while a member of the Army, distinguishes himself or herself conspicuously by gallantry and intrepidity at the risk of his or her life above and beyond the call of duty while engaged in action against an enemy of the United States; while engaged in military operations involving conflict with an opposing foreign force; or while serving with friendly foreign forces engaged in an armed conflict against an opposing armed force in which the United States is not a belligerent party. The deed performed must have been one of personal bravery or self-sacrifice so conspicuous as to clearly distinguish the individual above his or her comrades and must have involved risk of life. Incontestable proof of the performance of the service will be exacted and each recommendation for the award of this decoration will be considered on the standard of extraordinary merit.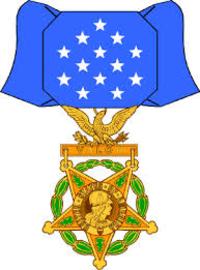 The Medal of Honor
Description: A gold five pointed star, each point tipped with trefoils, 1½ inches wide, surrounded by a green laurel wreath and suspended from a gold bar inscribed "VALOR", surmounted by an eagle.  In the center of the star, Minerva's head surrounded by the words "UNITED STATES OF AMERICA."  On each ray of the star is a green oak leaf.  On the reverse is a bar engraved "THE CONGRESS TO" with a space for engraving the name of the recipient.
Congressional Medal of Honor Society web page: https://www.cmohs.org/
History of the Medal of Honor: https://www.army.mil/medalofhonor/history.html
Medal of Honor – The History (A Vimeo Video Documentary Rivr Digital): https://vimeo.com/100896594
---
The names of our Medal of Honor recipients by war and date earned are listed below.
World War II
SGT Troy A. McGill, G Troop, 5th Cavalry Regiment.  Awarded posthumously for actions on Los Negros Island, Admiralty Group on 4 March 1944.
View Citation

PFC William J. Grabiarz, E Troop, 5th Cavalry Regiment.  Awarded posthumously for actions in Manila, Philippine Islands on 23 February 1945.
View Citation
Korean War
SGT Eduardo C. Gomez, L Company, 8th Cavalry Regiment.  Awarded posthumously for actions in Tabu-dong, Korea on 3 September 1950.
View Citation

PFC Melvin L. Brown, D Company, 8th Engineer Battalion.  Awarded posthumously for actions near Kasan, Korea on 4 September 1950.
View Citation
MSG Mike C. Pena, F Company, 5th Cavalry Regiment.  Awarded posthumously for actions near Waegwan, Korea on 4 September 1950.
View Citation
CPL Gordon M. Craig, 16th Reconnaissance Company.  Awarded posthumously for actions near Kasan, Korea on 10 September 1950.
View Citation
PFC Robert H. Young, E Company, 8th Cavalry Regiment.  Awarded posthumously for actions North of Kaesong, Korea on 9 October 1950.
View Citation
1LT Samuel S. Coursen, C Company, 5th Cavalry Regiment.  Awarded posthumously for actions near Kaesong, Korea on 12 October 1950.
View Citation
Chaplain (CPT) Emil J. Kapaun, HQ, 8th Cavalry Regiment.  Awarded posthumously for actions near Unsan, Korea on 1 and 2 November 1950.
View Citation
1LT Robert M. McGovern, A Company, 5th Cavalry Regiment.  Awarded posthumously for actions near Kamyangian-ni, Korea on 30 January, 1951.
View Citation
1LT Lloyd L. Burke, G Company, 5th Cavalry Regiment.  Awarded for actions near Chong-dong, Korea on 28 October 1951.
View Citation
1LT James L. Stone, F Company, 8th Cavalry Regiment.  Awarded for actions near Sokkogae, Korea on 21 and 22 November 1951.
View Citation

CPL Tibor Rubin, I Company, 8th Cavalry Regiment.  Awarded for actions in Korea and as a Prisoner of War between 23 July 1950 and 20 April 1953.
View Citation
Vietnam War
MAJ Bruce P. Crandall. A Company, 229th Assault Helicopter Battalion.  Awarded for actions in the Ia Drang Valley, Vietnam on 14 November 1965.
View Citation
CPT Ed W. Freeman, A Company, 229th Assault Helicopter Battalion. Awarded for actions in the Ia Drang Valley, Vietnam on 14 November 1965.
View Citation
1LT Walter Joseph Marm, A Company, 1-7th Cavalry.  Awarded for actions in the Ia Drang Valley, Vietnam on 14 November 1965.
View Citation

SSG Jimmy G. Stewart, B Company, 2-12th Cavalry.  Awarded posthumously for actions in the Vinh Thanh Valley, Vietnam on 18 May 1966.
View Citation
SP4 David C. Dolby, B Company, 1-8th Cavalry (Airborne).  Awarded for actions in the vicinity of the Vinh Thanh Valley, Vietnam on 21 May 1966.
View Citation
PFC Billy L. Lauffer, C Company, 2-5th Cavalry.  Awarded posthumously for actions near Bon Son, Vietnam on 21 September 1966.
View Citation
PFC Lewis Albanese, B Company, 5-7th Cavalry.  Awarded posthumously for actions near Phu Huu 2, Vietnam on 1 December 1966.
View Citation
SSG Edward N. Kaneshiro, C Company, 1-9th Cavalry.  Awarded posthumously for actions near Phu Huu 2, Vietnam on 1 December 1966.
View Citation
SSG Delbert O. Jennings, C Company, 1-12th Cavalry (Airborne).  Awarded for actions in the Kim Song Valley, Vietnam on 27 December 1966.
View Citation
PFC James H. Monroe, HHC, 1-8th Cavalry.  Awarded posthumously for actions near Bong Son, Vietnam on 16 February 1967.
View Citation
SP4 Charles C. Hagemeister, HHC, 1-5th Cavalry.  Awarded for actions in Binh Dinh Province, Vietnam on 20 March 1967.
View Citation
SP4 George A. Ingalls, A Company, 2-5th Cavalry.  Awarded posthumously for actions near Duc Pho, Vietnam on 16 April 1967.
View Citation
SP4 Carmel B. Harvey, Jr. , B Company, 1-5th Cavalry.  Awarded posthumously for actions in Binh Dinh Province, Vietnam on 21 June 1967.
View Citation

SP5 Edgar L. McWethy,B Company, 1-5th Cavalry.  Awarded posthumously for actions in Binh Dinh Province, Vietnam on 21 June 1967.
View Citation
SGT Allen J. Lynch, D Company, 1-12th Cavalry.  Awarded for actions near My An, Vietnam on 15 December 1967.
View Citation
SGT William D. Port, C Company, 5-7th Cavalry.  Awarded posthumously for actions in the Que Son Valley, Vietnam on 12 January 1968.
View Citation
CWO Fredrick E. Ferguson, C Company, 227th Aviation Battalion.  Awarded for actions near Hue, Vietnam on 31 January 1968.
View Citation
CPT James M. Sprayberry, D Company, 5-7th Cavalry.  Awarded for actions in the A Shau Valley, Vietnam on 25 April 1968.
View Citation
1LT Douglas B. Fournet, B Company, 1-7th Cavalry.  Awarded posthumously for actions in the A Shau Valley, Vietnam on 4 May 1968.
View Citation
SP4 Hector Santiago-Colon, B Company, 5-7th Cavalry.  Awarded posthumously for actions in the Quang Tri Province, Vietnam on 28 June 1968.
View Citation

SGT John N. Holcomb, D Company, 2-7th Cavalry.  Awarded posthumously for actions near Quan Loi, Vietnam on 3 December 1968.
View Citation
SP4 Donald R. Johnston,  D Company, 1-8th Cavalry.  Awarded posthumously for actions in Tay Ninh Province, Vietnam on 21 March 1969.
View Citation
SP4 Jesus S. Duran, E Company, 2-5th Cavalry.   Awarded posthumously for actions in the Republic of Vietnam on 10 April 1969.
View Citation
1LT Robert L. Poxon, B Troop, 1-9th Cavalry.  Awarded posthumously for actions in Tay Ninh Province, Vietnam on 2 June 1969.
View Citation
SGT Rodney J. Evans, D Company, 1-12th Cavalry.  Awarded posthumously for actions in Tay Ninh Province, Vietnam on 18 July 1969.
View Citation
SP4 Leonard L. Alvarado, D Company, 2-12th Cavalry.  Awarded posthumously for actions in Phouc Long Province, Vietnam on 12 August 1969.
View Citation
SGT Donald S. Skidgel, D Troop, 1-9th Cavalry.  Awarded posthumously for actions near Bong Son, Vietnam on 14 September 1969.
View Citation
2LT Robert R. Leisy, B Company, 1-8th Cavalry.  Awarded posthumously for actions in Phuoc Long Province, Vietnam on 2 December 1969.
View Citation
SP4 John P. Baca, D Company, 1-12th Cavalry.  Awarded for actions in Phouc Long Province, Vietnam on 10 February 1970.
View Citation
SGT Peter C. Lemon, E Company, 2-8th Cavalry.  Awarded for actions in Tay Ninh Province, Vietnam on 1 April 1970.
View Citation
CPT Jon E. Swanson, B Troop, 1-9th Cavalry.  Awarded posthumously for actions in the Kingdom of Cambodia on 26 February 1971.
View Citation

Ghosts of Fallujah
Ghosts of Fallujah (written by Coley D. Tyler) is a first person account of the Second Battalion, Seventh Cavalry's participation in the Second Battle of Fallujah, the largest single engagement of the Iraq War and the largest urban battle since Hue in 1968. A First Marine Division operation, it was spearheaded by one of the […]

Public Request for Division Assets (Band/Horse Cav Detachment/Honor Guard)
Need to request a Division asset: the Band, Horse CAV Detachment, or Honor Guard? Fill out the provided DD Form 2536 and email it to: SFC Kristin M. Chandler at usarmy.hood.1-cd.mbx.1cd-division-comrel@mail.mil.  If you have any questions about filling out the form call SFC Chandler at 254-288-2601. DD2536 Asset Request Form